ISETS '13
International Symposium on EcoTopia Science 2013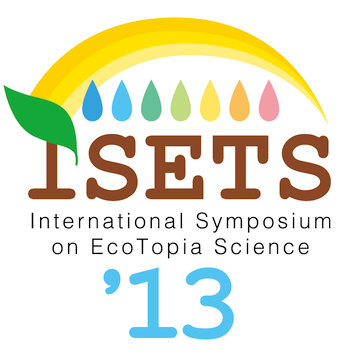 and
AMDI-4
The 4th International Symposium on Advanced Materials Development and
Integration of Novel Structured Metallic and Inorganic Materials

December 13-15, 2013
Nagoya University, Nagoya, Japan

ISETS '15 will be held on November 27-29, 2015.
ISETS '13 was successfully finished. Thank you for your attendance and contributions.
Attendees: 473 from 22 nations and regions
(Japan, America, India, Indonesia, Australia, Canada, Korea,
Spain, Sri Lanka, Thailand, Taiwan, China, Germany, Turkey, Nepal,
Philippines, France, Bulgaria, Malaysia, Myanmar, Mongolia, Romania)
ISETS is held biennially. We look forward to seeing you again in 2015 at the next ISETS!
What's New
2013/12/23
"List of Awardees" has been uploaded.
2013/12/11
Schedule of Poster preparation and Detaching poster on Dec. 14(Sat) has been changed.
Please check "Presentation Instructions".
2013/12/06
Information of Plenary lecture: We are very sorry to announce that Plenary Session of Presidential Prof. Jost O.L. Wendt (The University of Utah, USA) has been cancelled because of sudden disease. However, we have organized Distinguished University Professor. Ashwani K. Gupta (University of Maryland, USA) for the alternative Plenary Session Speaker.
Session title: Global Challenges and Opportunities Provided by Growing Energy Demands
2013/12/06
The online registration was closed on 2013/11/30.
- Attendee registrations: 445 (73 from 23 foreign nations)
- Banquet registrations: 136 (including invited speakers)
We will accept on-site attendee registration during the symposium.
2013/11/18
Final program of the symposium is available. Please check your presentation schedule.
2013/10/22
"Presentation Instructions" has been updated.
2013/10/04
Deadline of Online Early Registration has been postponed to 2013/10/14.
The online registration will be opened until 2013/11/30.
Please note that the Online Late Registration fee is the same as the On-site Registration fee.
2013/10/04
The full submission has been closed.
2013/09/18
Deadline of the full paper submission has been postponed to 2013/09/30.
2013/08/09
Online registration has been opened.
2013/08/08
Full paper submission has been opened.
2013/07/23
The abstract submission has been closed.
2013/07/01
Deadline of the abstract submission has been postponed to 2013/07/16.
2013/04/01
Online registration (abstract submission) and hotel reservation sites have been opened.
2013/02/12
"Call for Papers", "Important Dates" and "Registration" have been updated.
Organized by
Organizing committee of ISETS '13
EcoTopia Science Institute, Nagoya University

Cooperated by
The Japan Institute of Metals and Materials, The Chemical Society Japan,
The Ceramic Society of Japan, The Japan Institute of Energy,
Combustion Society of Japan, The Heat Transfer Society of Japan,
Tokai Branch, The Institute of Electrical Engineers of Japan,
Tokai Branch, The Japan Institute of Light Metals,
The Japan Society of Mechanical Engineers, Tokai Branch,
Division of Energy Engineering, The Society of Chemical Engineers, Japan,
Tokai Branch, The Society of Chemical Engineers, Japan,
TOKAI Section, IEICE, IEEE Nagoya Section,
(in no particular order)

Supported by



Suzuki Foundation, DAIKO FOUNDATION,
Research Foundation for the Electrotechnology of Chubu,
(in no particular order)

Company advertisement
High Voltage Electron Microscope Laboratory, Nagoya University Ecotopia Science Institiute,
Tektronix /Keithley Instruments,
METAWATER Co.,Ltd.,
ISAAC CO., Ltd., HOKUTO-DENKO CO., LTD, OZAWA SCIENCE CO., LTD,
HAMRI Co.,Ltd, SOGO KARIYA SANSO CORPORATION, SANKO ULVAC Co.,Ltd,
Alphasystem Co., Ltd., ART 1 Inc., TOHO GAS Co., Ltd.,
Babcock-Hitachi K.K., NIHON DENKEI, IHI Corporation,
Mashinax Co., Ltd., NAKAI Electrical Construction INC, FUJITSU FSAS CREATIVE INC.,
Idemitsu Kosan Co.,Ltd., SHIMADZU CORPORATION, RIKAKEN Co., Ltd.,
SANYO SHOJI CO., LTD, Tokyo Instruments, Inc., Hayashikasei Co.,Ltd.,
Daido Steel Co., Ltd., Brother Industries, Ltd., Netzsch Japan K.K.,
NIPPON STEEL & SUMITOMO METAL CORPORATION,
(in no particular order)